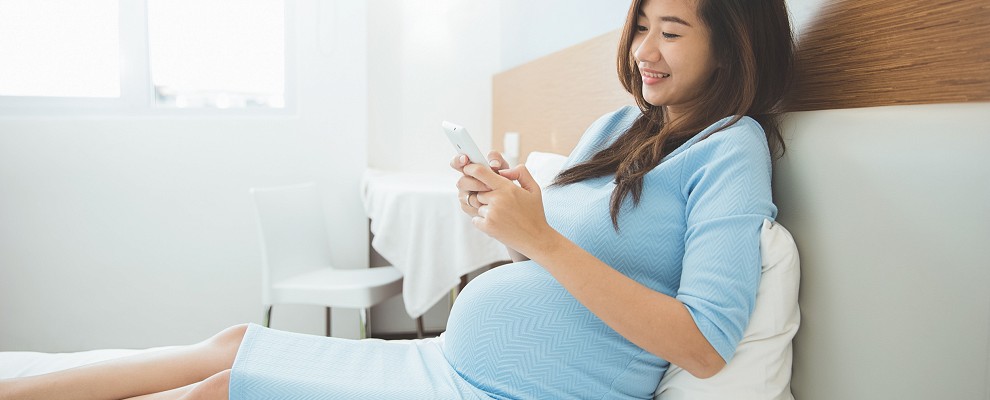 How OB Patients Stay Connected While Staying at Home – a Providence Physician Shares His Experience with Leveraging Digital to Educate and Engage
Digital Health, Maternity, Providers
The COVID-19 Pandemic has forced an increased adoption of technology across the healthcare ecosystem. For some providers, it's simply sped up their existing efforts to engage with patients digitally. For others, it's been a shock to the system. But at the end of the day, the healthcare industry's ability to deliver patient education and care both virtually and in-person is paramount to successfully supporting today's healthcare consumer.
"You either believe in technology or you don't," said Dr. Gregory Sacher, a practicing OB/GYN with Providence St. Joseph Health. "Personally, I am a believer. People use technology. Your patients will use technology. That's where we are as a society. You can either use vetted technology of your own to direct the dialogue or you can let patients find their own answers through the Internet. You can fight technology instead of embracing it, but you are creating a lot of work for yourself."
Dr. Sacher is board certified in obstetrics and gynecology and a member of the health system's high-risk obstetrics team. He was an early adopter of Circle, a mobile app developed in partnership between Wildflower and Providence, to support women and their families at every age and stage of health, starting with pregnancy.
"An unintended consequence of the pandemic is that we are discovering maybe we see patients more often than we need to," said Dr. Sacher. "Maybe some visits and check-ins can be done electronically to make it easier on patients. When it comes to obstetrics, there are absolutely times when we can't lean on digital. If a mom can't feel her baby move and wants to hear a heartbeat to know everything is okay, we can't do that via Zoom. But even then, we've had patients come in just for a quick appointment to listen to the baby's heartbeat. We get them in and out with minimal exposure but a lot of reassurance."
In the current environment, Dr. Sacher is seeing increasing interest from patients for receiving education and support between visits. Specifically, his practice leverages the Circle app to meet these needs.
"There is a ton of uncertainty, and patients are worried about their unborn baby and themselves," he said. "They really appreciate being able to access information and support and having the reassurance of the content available in the app. Early on in the pandemic, we integrated educational information on COVID-19 and were able to deliver it to our patients through Circle. That wouldn't have been possible for us without the app."
Being able to leverage a trusted channel of communication with patients is extremely valuable, according to Dr. Sacher.
"The internet is a tremendous source of misinformation," he said. "A patient with the best intentions does not know how to sort the sound advice and good information out from the bad. Patients spend a lot of time with the poor sources, and we spend a lot of time correcting the inaccurate information. It is much better to have a readily available tool that provides local, vetted, evidence-based content."
The Internet isn't the only distracting source of information that pregnant women have to navigate.
"Everyone has an opinion to share when it comes to pregnancy," said Dr. Sacher. "Moms, sisters, best friends. Having a trusted source that the patient can rely on during pregnancy improves patient satisfaction and clinical outcomes as well."
In addition to general support throughout pregnancy, Dr. Sacher sees opportunities for the app to deliver specific education around specific risks, like gestational diabetes or hypertension.
"The questions that arise during pregnancy are almost endless. What foods can you eat? What type of physical activity is recommended? What are the warning signs of pre-eclampsia or gestational diabetes? The better the information a patient accesses, the more it helps with outcomes."
Dr. Sacher recommends the Circle app to all new patients during their first visit. As a result of his consistent promotion of the app, he estimates that 75 percent of his patients use the app during their pregnancies.
"It's not an extra step, and it doesn't require any of my time," said Dr. Sacher. "It's just part of the patient workflow. We also promote it on the inpatient side. If someone comes in for a specific need such as decreased fetal movement, our nurses recommend the app as a key resource to them."
Dr. Sacher said he consistently receives positive feedback from patients about their app usage. As of late, that has centered on the COVID-specific content that was made available. During the pandemic, the app is also being used to fill voids left by postponed in-person labor preparation classes. It also supports other changes that are being driven by the virus.
"There are some definite changes for expectant moms," said Sacher. "For instance, only patients are allowed to attend appointments, so dads are missing out on ultrasounds, etc. It's harder for partners to be involved."
It's also harder for partners to help advocate for the patient as a result. Another value of the app is that it provides additional support for visit preparation and follow up for patients, including question lists that can be generated before visits by the patient and her partner.
In the end, Dr. Sacher believes having a digital lifeline for patients pays off.
"It makes a real difference," he said. "When I'm engaging a patient, I can tell if she is an app user simply by the questions she asks and how she responds to my recommendations."