Advancing Value-Based Care in Maternity - Best Practices for 2.0 Models via Becker's Webinar Featuring Atlantic Health System, Atlantic Medical Group and Wildflower
Earlier this year, the Health Transformation Consortium, a leading coalition of health systems in New Jersey, announced a statewide initiative to transform the delivery and financing of maternity care. Fast forward eight months, and this program is fully operational and already producing directional outcomes from which we can all learn. A multi-stakeholder panel recently discussed this initiative in detail and shared key learnings and best practices during a live Becker's webinar. Below are 10 top insights from the webinar, which was focused on the evolution of value-based maternity care models and how we can take important next steps to advance our approach and dramatically improve maternal health outcomes.
To watch the full discussion, please click here.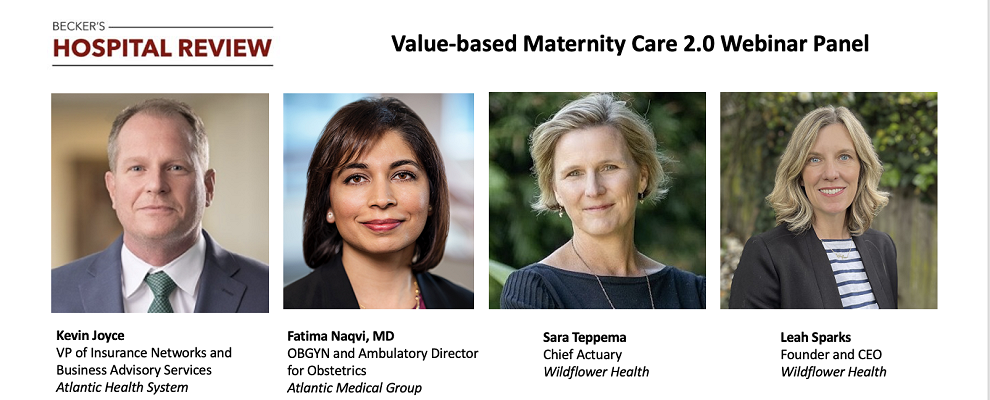 Top Ten Insights on Value-Based Maternity Care 2.0
1. Value-based care is not just about financials and math. It is more about the patient being in the center of care and being treated as the number one priority.
2. Historically, the focus was on C-section rates, postpartum hemorrhage rates, and breastfeeding rates. We shouldn't abandon those, because they are very meaningful. But moving forward, we also have to look at inpatient side as well as ambulatory side. We have to look at what was that birthing experience like for that birthing individual? What happened after? For patients with a diabetes diagnosis, did we effectively address patient needs? The view must be expanded from process measures to continuity of care and alignment for the good of patients.
3. The financial upside of value-based care is great, but you also have to make the right tools available to clinicians who are burned out and already struggling to find adequate time to support their patients. From a value prop perspective, those tools (which can include digital apps, virtual care, remote monitoring and health advocacy) are actually more important than the shared savings that are on the table.
4. All stakeholders must be engaged early and often. Earlier value-based models in maternity were focused solely on physicians. Hospitals weren't part of the discussion. In many cases, the hospitals first met patients when they showed up to give birth. In New Jersey, the value-based maternity care model includes the employer, the health system, independent OB practices and Wildflower as a third-party convener. Value-based care 2.0 means integrating a continuum of care across outpatient and inpatient settings.
5. Actuarial models can have the greatest algorithm and formulas, but it's even more important to clearly articulate the goals of the program. What are we trying to accomplish? In value-based maternity care, we want to improve outcomes. To accomplish this, we have to track mom from the minute she's diagnosed and all the way beyond her delivery. We want her to understand her care and to receive exactly the support she needs. We also want to ensure a healthy baby, so what are the infant outcomes we need to be sure to integrate into the model? Finally, we want the model to be financially meaningful for the OB, the hospital and the other partners involved.
6. A total cost of care model creates more opportunity to impact outcomes and generate financial rewards. Yet even though it is a bigger, broader approach, it also is much more simple. Past models have relied on very complex algorithms, clinical black boxes, really. A total cost of care model includes everything that happens, with the exception of a few scenarios that are out of our control. It's a different model than what we've seen in the past. It's easier to understand, it's more transparent and it opens the door wider for good things to happen.
7. Earlier models deployed a trigger and "look back" versus finding the patient early and supporting her along her journey. What we're deploying now creates ongoing tracking for patients, timely and ongoing feedback to providers and the ability to more effectively respond to both clinical and non-clinical patient needs. This means looking at leading indicators to inform care, not just relying on lagging indicators, such as cost savings, after the fact.
8. You need clinical champions. The last thing a physician wants to hear is a managed care finance guy saying, "Hey, I have this great tool for you!" Whatever you're introducing has to add clinical value and integrate into workflows. And it will go absolutely nowhere without a clinical champion.
9. For patients to be successful, you have to address a wide range of factors that are in play when the patient is not in front of you in the office. The technology components of a value-based model allow for virtual care coordination, support for social determinants of health, remote monitoring, daily engagement and a host of other benefits. Women will engage with technology. More than 50 percent of the women participating in the New Jersey initiative have engaged with the Wildflower solution, and this engagement can be up to 90 percent for practices providing a higher touch from their physicians.
10. New value-based models are delivering on the original promise of digital health. The initial intent wasn't to create another silo or just have consumer education outside of the clinical community. Digital health was supposed to make patient interactions and engagement more efficient and more impactful. It was supposed to connect dots, facilitate the use of data and create connections to care between visits. Along the way, point solutions began to run rampant, and the industry got away from the core value and benefits of technology. With value-based care 2.0. we're seeing smarter incorporation of technology that is more true to the early dreams of digital health.
Want to learn more about how to effectively design and implemenet a value-based model to improve maternal health outcomes? Contact us today for a 1:1 consultation.