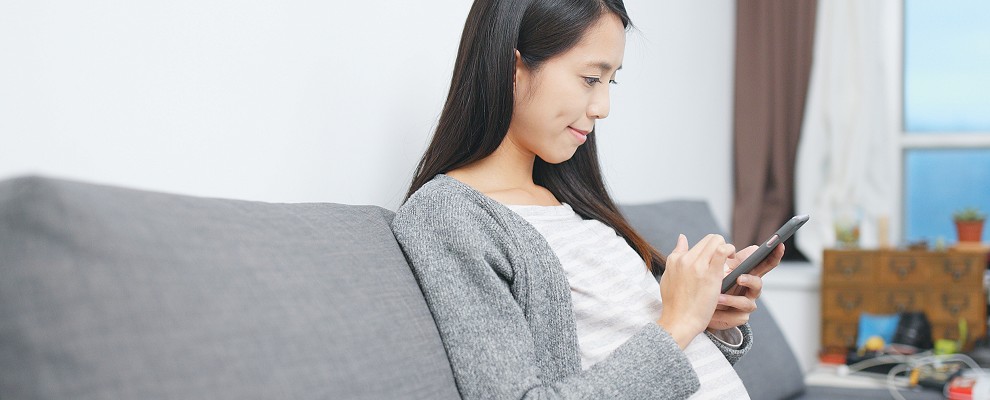 Clinicians Play a Critical Role in Connecting Patients with Supportive Technologies During and After Pregnancy – Lessons Learned from Providence on Driving Digital Engagement
When legislative changes made it a requirement to screen prenatal and postpartum patients for maternal mental health conditions, Dr. David Lagrew and his team at Providence saw an opportunity to leverage and expand the adoption of a mission critical digital app called Circle among the organization's Southern California hospitals.
Dr. Lagrew is the executive medical director of women's services with Providence. He has been a long-time evangelist of Circle, a mobile app that was designed in partnership with Wildflower to support Providence patients throughout pregnancy and into parenthood by providing education, helpful tools and real-time connections to health system and community resources.
"The maternal health legislation was an early driver for us as we looked to expand usage of Circle within our system," Dr. Lagrew said. "We wanted to be able to track the mental health needs of our patients and have systems to address those so we could ensure our moms were being supported. We just couldn't put another piece of paper in the hands of the patient. That just wasn't the way to go, particularly for our younger patients. Paper tends to land in the trash on the way out of the office. That obviously doesn't accomplish the goal. So, we knew this was the perfect opportunity to extend the reach of this powerful digital tool we had available and to demonstrate what we could do with it."
Empowering the Clinical Team
Dr. Lagrew and team empowered nurse case managers at hospitals throughout Los Angeles and Orange County to make a concerted push to connect patients with Circle. The goal was to extend and reinforce the care clinicians could deliver via scheduled visits. The extra effort worked. Providence saw multiple months of increased engagement with the app. In fact, between September of 2020 to March of 2021, Providence boosted engagement with Circle by more than 36 percent. In February and March of 2021, the organization saw approximately 70 percent of its Southern California hospitals surpass the lofty goal of 70 percent engagement among pregnant patients.
Providence's data also revealed some interesting insights, including the compelling conclusion that affluence doesn't seem to be a prerequisite for patient engagement with digital tools. In fact, several Providence hospitals who serve communities with high needs for social determinants of health were just as likely to improve downloads and engagement with the app as more affluent communities. Despite facing different challenges, pregnant individuals share the same needs when it comes to accessing education and tools that support a healthy experience, both before and after the baby is born.
Driving engagement with digital tools requires strong advocacy from clinicians. Driving adoption and support among clinicians requires a champion who is willing to share the benefits of the technology and make the case for how it can help. The key is to focus on the potential clinical impact.
"We were very clear that this is not a marketing ploy or advertising scheme, but a clinical tool that helps drive better care," Dr. Lagrew said. "We wanted to make sure our clinicians knew this was not about promoting the organization or driving growth. It was about bringing in a technology that could assist them with their patients and improve outcomes.
You also must ensure the technology doesn't interfere with the delivery of care. Some Providence providers were nervous about adding Circle to their workflow, but when it was installed without disrupting the way they practice medicine, support grew quickly.
"We've tried brute force, we've tried lots of things, but in the end if you want to be successful with new technology, you have to make it part of the workflow," Dr. Lagrew said. "When it doesn't take more of their time, and it's not an inconvenience, it eventually just becomes the way we do things around here."
How to Sustain Momentum
Despite the success, Providence's experience also showcases how digital engagement is not a one and done activity. Education and promotion must be sustained via constant education and integration into workflow.
"We have learned that lesson first hand over the years, and specifically during the pandemic when staff bandwidth was stretched, Dr. Lagrew said. " Any time we have been distracted by competing priorities, we respond by putting our foot back on the gas. This is something we want to be successful for the long haul. We want to hardwire it into our care going forward. We are big believers that our future will be centered on engaging and educating patients via digital tools."
As with everything else, the COVID pandemic also created new opportunities for engagement as well. These opportunities have been pivotal for maintaining engagement with clinical teams at a time when they needed additional support for responding to pandemic-related inquiries.
"As questions mounted about COVID and pregnancy, we tried to leverage social media channels to deliver education around the pandemic, but they weren't very effective in this case because there were so many polarizing opinions and negative comments," Dr. Lagrew said. "Circle allowed us to get the information into people's hands and for them to evaluate it in privacy to determine pros and cons for themselves. We were able to dispel some common myths about COVID and deliver lots of pertinent and credible information to our patients. It was just another great example of how this app can make a positive difference."
Looking to the Future
Now that engagement has found its place within standard practice, Dr. Lagrew sees obvious new priorities to further leverage Circle moving forward.
"Health equity is the next big issue we are using the app to tackle," Lagrew said. "On the one hand, a big positive is that the app doesn't have any implicit bias in it. It's just the numbers, and the interventions. At the same time, it's also packed with content that is designed to support equity by personalizing the experience and supporting the unique needs of patients."
Additionally, the app is expected to play a significant role in future value-based care models for Providence.
"As we move to value-based care, this will be a critical part of the equation," Dr. Lagrew said. "Being able to manage intake and continual assessment of patients, as well as connecting them with appropriate resources, it's all just very important."