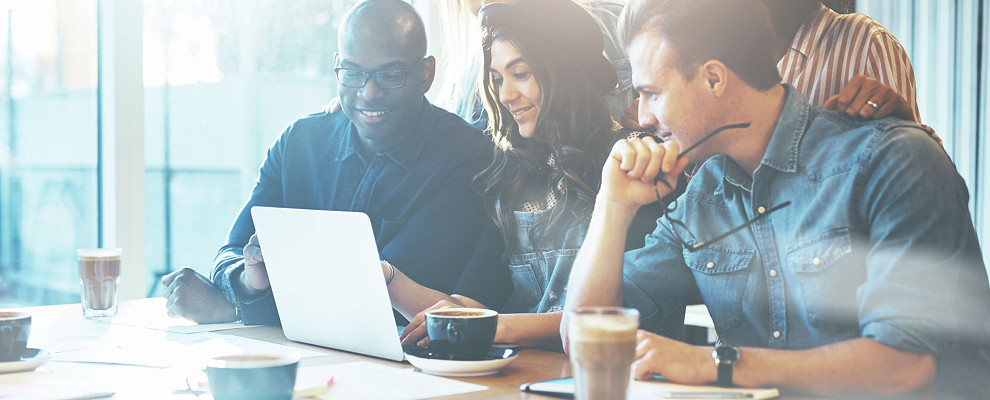 How Payers and Providers Can Collaborate Digitally to Improve Maternal Health Outcomes: A Case Study from the State of Nevada
During a recent webinar sponsored by Becker's Hospital Review, Wildflower Health, Health Plan of Nevada (HPN) and Women's Health Associates of Southern Nevada (WHASN) showcased a unique partnership aimed at improving engagement, care coordination and maternal health outcomes. By creating a unified digital experience for individuals for both provider and health plan support and resources, HPN and WHASN facilitated more holistic and timely care for expectant mothers. Below is a Q&A summary from the webinar.
About the Panel

HPN is one of the largest health insurance companies in the state of Nevada supporting both commercial and Medicaid populations. WHASN is a large, single-specialty OBGYN practice with 20 care centers serving areas including Las Vegas, North Las Vegas and Henderson. Panelists for this event included Katie Nease, Associate Director of Maternal Child Services for HPN; Dr. Rebecca Herrero, President & CEO of WHASN; and Leah Sparks, founder & CEO of Wildflower.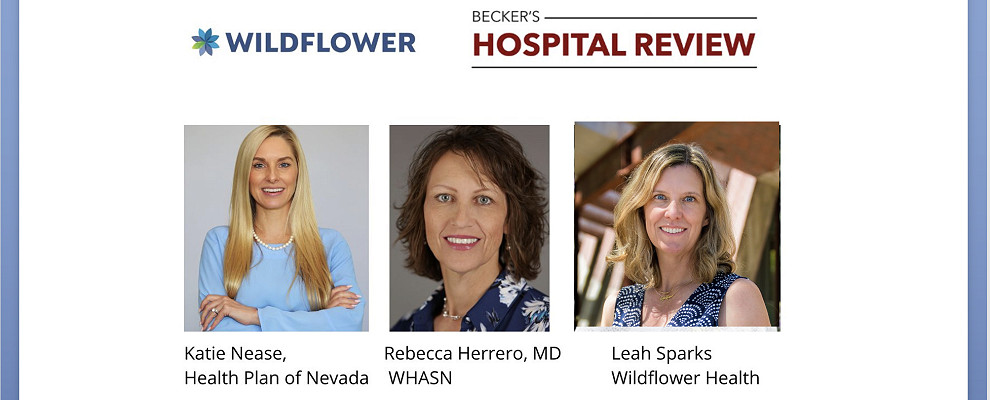 How did this partnership come to life?

Sparks: In 2018, we started working with HPN to create a digital front-end for all of the health plan's maternity services. This application also included content, tools and trackers that are helpful in educating and empowering women to be active participants in their care.

Then in 2020, we started working with WHASN, serving as a digital front-end for patient care. Our application was integrated into the practice's EMR. Much of the same content, tools and trackers from the HPN app were present here as well, but with WHASN, we were also triggering reminders for prenatal appointments and other care priorities.
Obviously, there is a lot of overlap between WHASN and HPN when it comes to the patients they serve. About a year ago, HPN and WHASN came together to figure out how to serve women in a more holistic way and to collapse care silos. That led to the development of a networked solution where individuals could access resources and support from both organizations on one app.
What does this networked solution look like, and how does it work?
Sparks: Basically, we integrated the digital experience for HPN members who were also WHASN patients. When a patient downloads the digital app through their provider and identifies as an HPN member, they receive content, information and resources from both organizations. In other words, they get all the support available to them through their provider and their health plan in a single digital environment. It's a simple solution that provides very powerful results.
If we look over the past year, 350 members signed up for the maternity app directly through HPN. And only a quarter of those pregnancies were in the first trimester. Meanwhile, more than 1,600 patients downloaded the app through their OBGYN with 70 percent of those engagements happening in the first trimester of pregnancy. So we're seeing a 5X improvement in the number of pregnancies being identified for the health plan, and those pregnancies are being identified much earlier.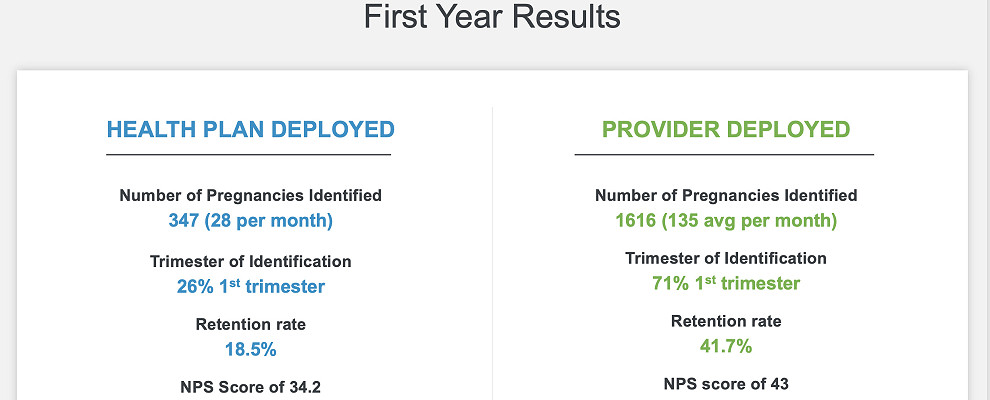 Has HPN seen value from this collaboration?
Nease: We have seen a lot of value in being able to identify high-risk pregnancies early so we can deploy care management and other interventions and make sure these women get appropriate access to care. Approximately 65 percent of the app users we've been able to reach with this collaboration would not have been identified as early if we were relying on claims or other reporting. We also have daily data on pregnant members that flows back to our clinical teams from the app, including survey responses that help assess ongoing risk.
We have received great feedback from members. It helps them feel like they are more connected, and it increases the level of trust and reliability for the app. For someone who's pregnant, and awake in the middle of the night and worried, you can open up the app, find answers and in one click be connected to our 24/7 nurse line where you'll have access to a registered nurse. That is a big deal.
The app also helps with support related to key needs such as maternal mental health and social determinants of health. From member satisfaction to avoiding high-cost complications that put mom and/or baby at risk, this is a difference maker.
And what about you Dr. Herrero? Has this has been successful in terms of supporting HPN members at the point of care?
Dr. Herrero: Our patients are hungry for good information. There are a lot of pregnancy apps out there for patients to download, but it is an entirely different value proposition when the information and recommendations you receive are coming directly from your provider and your health plan's clinical team. Our patients have been excited to engage with this app and to take advantage of all the benefits.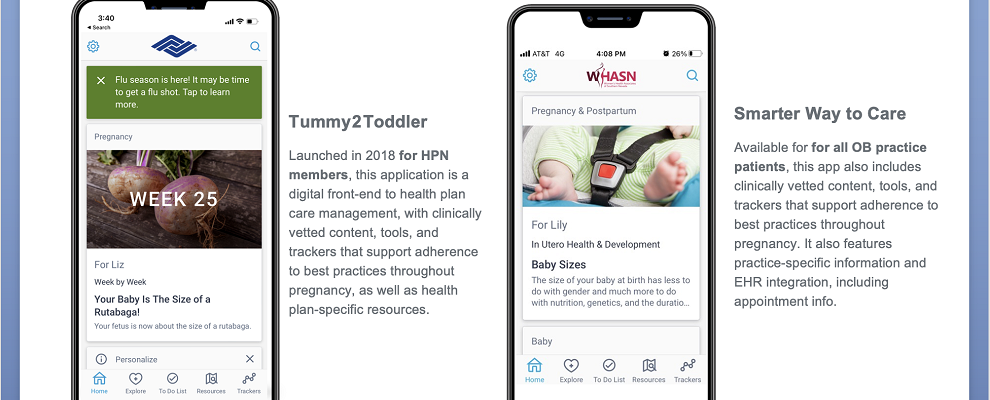 Was it historically difficult for HPN to find pregnant members early and to get the word about all the programs and resources you have to offer?
Nease: Early identification of pregnancy is not easy. We ask ourselves all the time, how can we make sure all of our members aware of the great services we provide to support healthy pregnancies. As a health plan, we don't know someone's pregnant unless they're calling our member services team with questions. Typically, we don't receive a claim for a pregnant mom until they deliver, and so often times, we've missed that opportunity to engage them early, assess their needs and refer them to the right support.
Before this collaboration, was WHASN aware of all the programs that HPN had available for pregnant patients? Did you have the ability to connect the dots in your day-to-day practice to get health plan members referred to those services?
Dr. Herrero: As the leader of my organization, I have been quite familiar with all of the health plan offerings, but most of our boots on the ground providers were not very aware of them at all. They are so focused on delivering care that we definitely had blind spots regarding what was available through the health plan. So there's a gap for sure. And historically, there was no way for us to effectively close that gap.
This is still a rather unique approach for a provider and a health plan to collaborate digitally like this. What challenges have you navigated and/or what lessons have your learned?
Dr. Herrero: One challenge on our side was the integration with the EMR, which is not surprising. Working with Wildflower, we were able to accomplish a seamless workflow so that it was easy to enroll new patients in the app and didn't interrupt the delivery of care. That was critical. We knew we couldn't ask our providers to do more.
Another challenge was just engaging our managers and our staff and showing them this is something that is worth their time and attention. Everyone on our team is busy and focused on patient care. So, you just have to make sure the entire organization understands this will positively impact patient quality, and you have to continue making it clear how this is making care better.
Nease: We are constantly learning. We regularly review the program to make sure content within the app is up to date and that we have the latest resources served up properly to members. Engagement with our various internal departments and teams has also required some time and effort, just spreading the word and making sure everyone understands the importance of this program. Finally, you need a strong provider partner if you are going to engage in a program like this. That makes a huge impact on the success of it.
Both HPN and WHASN want the same thing. We want every pregnant woman to have a health pregnancy, a healthy delivery and a healthy family. Sometimes, we may have different views of how to get there, but that's where a good relationship and trust comes in. We can have those conversations, work through differences and find common ground.
Where does this partnership grow from here? What does the future hold?
Dr. Herrero: We're excited about future possibilities for expanding this beyond pregnancy, which generally is only a small portion of a woman's reproductive healthcare needs. As OBGYNs, we are delivering support that spans the rest of a woman's life. So, we are thinking about how we can leverage this platform to support that longitudinal care.
I also think that adding a virtual health advocate could be valuable moving forward. By that I mean a real person who can engage with patients virtually, answer questions and help them work more effectively with their care team.

Nease: There is definitely lots of opportunity for growth here. Historically, our app has focused on pregnancy through the first two years of the baby's life. After birth, we are making sure pediatrician visits are happening, that babies are getting their immunizations and routine screenings. It seems like a natural next step to expand that support into the pediatric side, as well as expanding the support available to women in other areas of their health journeys.
Is a value-based care model also in the future for this partnership?
Sparks: While there isn't currently a value-based model backing this partnership, value-based care is an important part of the broader discussion. The payment model is just a mechanism to fund transformation. Clinicians need the proper tools for this transformation. What I think is so telling from what Katie and Dr. Herrera have said is that both organizations have a commitment to care transformation first and foremost. Moving forward as an industry, we need to figure out the economics to sustain it and expand the impact. That's a lot of the work our company is engaging in currently.
Want to learn more about this partnership and how HPN and WHASN are collaborating to improve maternal health outcomes? You can view the full Becker's webinar by clicking here.