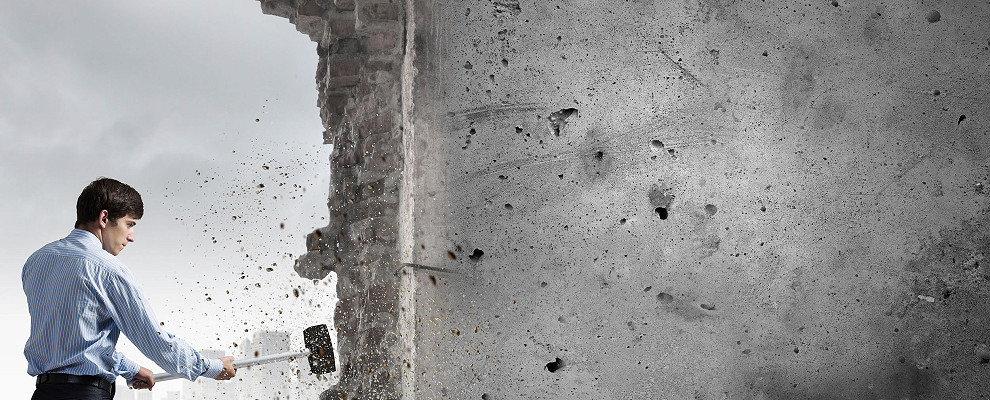 Is It Worth It? The Burning Question for All Those Who Labor and Toil to Change the Healthcare System. The Women We Help Every Day Hold the Answer.
I was having lunch recently with a friend who also works in healthcare. As the conversation shifted from small talk to talking shop, of course we fell into a deep, dark hole lamenting all the obstacles that exist when you're trying to achieve real change in healthcare, and how extremely difficult it is to see progress and make a difference. After a while, my friend paused, looked at me and said defeatedly, "Is it even worth it?"
If you've worked in healthcare for any significant amount of time, you've asked yourself this very question. Is it worth it? Is it worth the headaches, the long hours, constantly pushing a rock up a hill and swimming against the current? Is it worth encountering challenge after challenge, fighting with all your might, just to move the needle by a needle.
At Wildflower, we are in a very complex and complicated business. We are trying to help transform care delivery and funding models within women's health to radically improve maternal health outcomes in this country.
To accomplish this, we are developing value-based care approaches that rely on highly sophisticated actuarial models and the latest technology, so that we can operationalize digital and virtual support for patients while making important data available and actionable for providers. We are engineering multifaceted risk scoring to appropriately stratify patients and ensure high-risk mothers are receiving priority outreach and support. All the while, we have to facilitate tighter collaboration and alignment among payers and providers so that we can all work more efficiently and effectively than the status quo allows.
It's hard. Transitioning to value-based models for maternity care is the right thing to do, but it also runs counter to the way the system is designed, and as a result it is not an overnight success.
With this as context, I had to ponder my response to my friend. In doing so, I thought back to the singular experience that hooked me on healthcare more than two decades ago, when I was working in specialty pharmacy.
Our New Orleans pharmacy had a wall where we displayed survey responses and comments that were sent in from our patients. This wall was always full of inspiration, but one day, a comment stopped me cold. It has stuck with me ever since. It was from a gentleman who was being serviced through a contract I was responsible for selling and managing. His comment was simple, but so impactful.
It read…
"Thank you for sending me my medications on time every month. Before I started this treatment, I was never able to pick up my grandson. Because of you, now I can get on the floor and play with him!"
It still gives me goosebumps when I think about it.
I responded to my friend with a simple, "Yes, yes it is worth it."
Let me tell you a few stories that are more recent than my time in specialty pharmacy. I think they will reinforce my stance that despite all the adversity, working in healthcare and committing to change is a worthwhile pursuit.
Based on survey responses within our digital app, we knew Ruby needed our help. She had elevated EPDS scores indicating perinatal depression, anxiety and thoughts of self-harm. She also had a variety of SDoH issues.
After multiple calls and messages, our Health Advocate was able to talk to Ruby to learn more about her family's situation. This included major financial stress due to her husband's veteran disability payments not covering their expenses. While her husband and daughter were on Medicaid, Ruby was denied due to citizenship and had to pay for a commercial health plan.
Ruby was anxious about those health expenses and desperately wanted assistance that she thought she was not eligible for. Her Health Advocate investigated Ruby's eligibility, discovering, among other issues, that the wording of the application questions might have led to her denial. With a new application in hand, and community connections to WIC, SNAP and others, Ruby walked to her nearby Family Resource Center to get the support she needed.
Ruby reached out weeks later, after having her baby. She was concerned about her mental health. While she was now enrolled in Medicaid, she didn't know who to talk to or where to go. Her Health Advocate connected her to support groups, resource centers and hotlines for immediate help. She also made referrals to Ruby's health plan for covered SDoH and case management support.
Ruby got help and was able to effectively address her mental health postpartum.
When we met Bobbi, she was expecting her fourth child. She shared various health concerns and conditions that she and her family were experiencing. She was epileptic, at risk for gestational hypertension and postpartum depression, and had recently visited the hospital for a slow heart rate and difficulty breathing. Bobbi was the main caregiver for her children – a newborn, 2-year-old and 4-year-old who was autistic, nonverbal and violent. The family recently moved states so there was no family support, other than from her husband who worked long hours.
In working with Bobbi's health plan, our Health Advocate referred her to lactation support, case management for herself and her autistic child, and specialized medication management for epilepsy while breastfeeding. Bobbi's family also needed SDoH connections with home visitation programs, transportation assistance, SNAP and other food scarcity support. Bobbi was clearly overwhelmed with managing her health and her family's health, but she recently expressed relief with the ongoing support she has received.
"I feel so relieved, calmer. It's a big weight off my shoulders, which is a big improvement for me."

I feel so fortunate to hear stories like these every, single day. It's literally every day, and it keeps me motivated. It keeps me grounded and tied to the mission of our company. Yes, we have to be successful at the population level for our clients. We have to drive lower costs and improved quality. We have to hit our targets. We have to prove that value-based care works within women's health. And every step of the way, it's hard. It requires you to bang your head against that concrete wall time after time, trying to force the smallest of cracks. But every crack we force at Wildflower makes a difference. Every inch of progress means one more woman receives the support she needs to have a healthy pregnancy and a healthy birth.
When you think about it that way… Is it worth it? I'll let you answer that for yourself? You know where I stand.