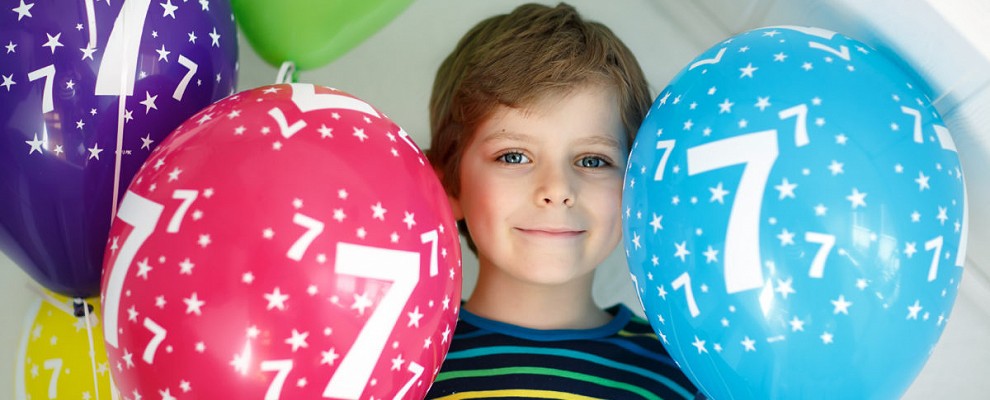 Lucky Number 7 –Where Digital Health, and Wildflower, Go From Here
Digital Health, Health Innovation, Health Navigation, Mission
The last time I paused to reflect on our company and our industry, I was largely focused on my journey as a mom and founder of an organization that is committed to growing healthy families. That post was sparked by my older son's first day of kindergarten. Today, another special occasion has me looking at the past, present and future. This week, Wildflower officially turned seven years old. We don't usually spend a lot of time celebrating our birthday around here, but this year, something about the number seven and something about where we are and where healthcare is headed, compelled us to examine the difference seven years has made.
And consider what's next, both for us and healthcare. We feel fortunate to be here and to be thriving as a business. You've heard the stats: 90 percent of all startups fail. Just recently, we talked about how challenging it is for a mobile app to survive its first use. So, as a startup that got its start as a mobile app, seven years of life marked by consistent growth is quite an accomplishment. Seven years ago, based on my own experience as a healthcare consumer, we saw a clear need to help women better navigate the healthcare system while pregnant. Since then, we have evolved our solutions to support families at every age and stage.
We've built upon our original maternity programming to offer newborn, pediatric, teen, adult and aging parent content, resources, and connections. We believe digital tools that educate, empower, and connect the dots to health and community resources can truly help families thrive.
But seven years ago…
Seven years ago, digital and health weren't words linked together consistently. Seven years ago, the healthcare headlines were stuffed with Supreme Court and Obamacare, with ACOs and vertical integration, with high-deductible plans and consumer driven healthcare. Seven years ago, telemedicine was just emerging as a promising solution. Seven years ago, digital health was still considered a dice roll. Or a nice initiative to showcase some innovation. Or as a distant sci-fi future. Seven years ago, Wildflower was an idea.
And seven years later…
Seven years later, digital health is seen as a strategic imperative for healthcare enterprises. Seven years later, major tech players such as Apple and Amazon are pushing deeper into the healthcare system and disrupting the status quo at every turn. Seven years later, the app stores are fully stocked with thousands of mobile health apps, all promising to make life better. Seven years later, we've seen a technology tsunami occur with innovations in machine learning, artificial intelligence, robotics and connected solutions all making waves in the healthcare space. Seven years later, Wildflower is powering solutions that cover more than 50 million lives across our health plan, hospital and employer clients. And seven years later, unfortunately, health consumers have even more decisions to make and paths to take. Seven years ago, the industry thought consumers would naturally take on a more active role in their healthcare if costs were shifted to them. We placed all these expectations on patients to act as consumers, but we never gave them proper tools to meet those expectations. We still haven't.
Seven years later, it's clear there are still gaps in the promise of digital health for consumers. Technology hasn't made it easier for consumers to navigate the system. It has further fragmented it. Consumers get bumped between transactional portals that seem to serve the system, not them. Consumers re-enter their health data every time they go to a new provider. Healthcare still lacks the personalization we crave. These are among the reason we've evolved our solution to help families seamlessly connect to both payers and providers instead of creating more siloes with individual apps and solutions that aren't connected. As we look to the future, we are prioritizing strategies that make our technology ever more connected, intelligent and ubiquitous, with the goal of working with our clients and partners to vigorously chip away at these remaining gaps in the consumer experience for healthcare. So, on our birthday we will celebrate our successes with a smile and nod to the future because we will quickly return to our mission as an organization.
We want to be part of building a brave new future where healthcare can come together for a better consumer experience. We want to help properly equip consumers and connect them with trusted healthcare resources available through their health plans, providers and employers. We have a vision where an entire healthcare ecosystem can be aligned and activated to deliver on the specific needs of families, no matter where they are on their journeys. We see a future where healthcare can be whole, not the fractured, siloed, system it is today. All supported by smart technology. Seven years from now, I hope to revisit this post. Read it with a smile. And be proud of the role we played in simplifying healthcare and making it work better for all. In the meantime, happy birthday to the Wildflower family and everyone out there who believes in what we're working so hard to achieve! Here's to the next seven years and beyond!